Starting back in 2011 I began making small games in my spare time. Early on, all of my games were developed in ActionScript 3, using the FlashPunk framework. I posted my games to Flash Game License (the site is mobile games only now) seeking sponsorship from game portals. All of my submitted games secured a successful sponsorship, mostly paying for the next game, sometimes securing a nice profit!
I moved on from Flash games, and attempted a couple of bigger, commercial projects. One of these games is a complete failure, never seeing the light of day, and the other, I'd call a personal success. These two games were both developed in the Haxe programming language, utilizing the open-source frameworks OpenFL and HaxeFlixel. Creating games as a creative outlet is hard work, but still a lot of fun. Here are some of my games: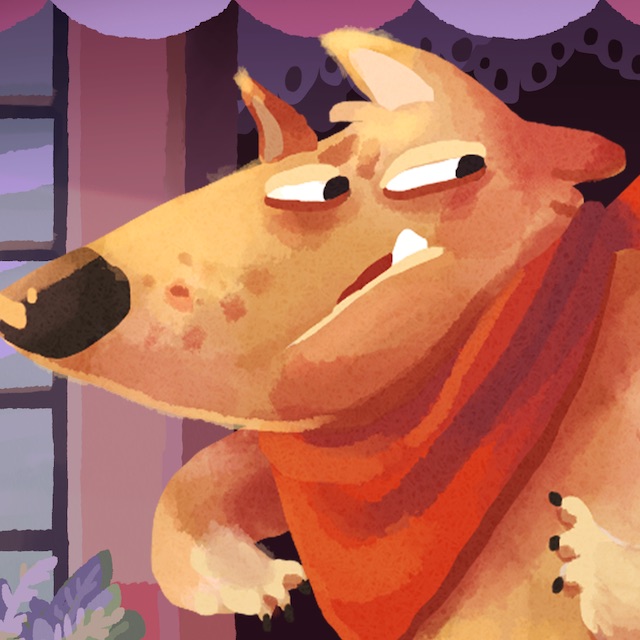 The Wolf's Bite is a one-versus-one choose-your-own-adventure game with an entrepreneur fairy tale twist. Inspired by stories such as "The Three Little Pigs" and "The Stinky Cheeseman and Other Fairly Stupid Tales", the game revolves around thwarting the other player while ensuring your business thrives.
This game is my first commercial release, and quite the learning experience. It released on Windows, Mac, and later iOS, but is no longer availble on iOS. The beautiful art is by Karen Texeira, wonderful music/sound by Fat Bard, and witty writing by Dave Coughlin.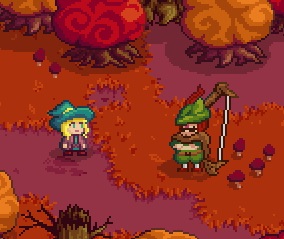 A Wicked Curse is my most ambitious project ever attempted, and never saw a proper release. As described from its dev-log, "A Wicked Curse is a top-down adventure game set in a small procedurally generated open-world, with roguelike elements, and strong fairytale inspirations. Alongside upgradeable stats and equipment, it features a 'curse' system, making each play through unique!".
This game's failure taught me a lot, mostly what sized project I could realistically take on in my free time and see it through to the finish line.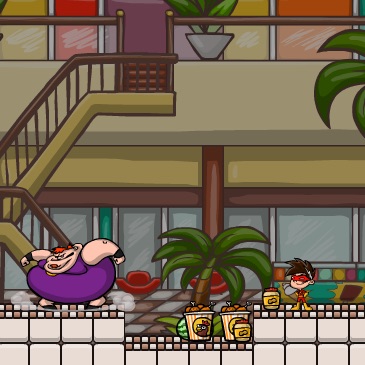 Comic Book Cody is a small, 2D-platformer in which you help Cody retrieve his comic book collection back from burglars! Run, jump, and fight as Cody and his favorite super heroes across 36 unique levels, amongst three regions, while squaring off against three unique bosses, the last of which is quite the surprise. This game was released in the mid-2013,
Comic Book Cody is my most successful Flash game, securing a strong sponsorship, and seeing millions of plays worldwide.It was a very fun game to make, though tough to play considering it was made in Flash.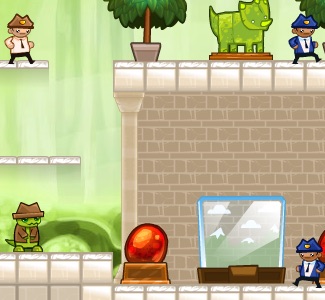 Rex is a tiny Tyrannosaurus Rex with a big attitude. He doesn't appreciate how museums always have his ancestors on display, and he is out to wreak havoc on the local museum. Run. jump, and CHOMP your way through 25 fun levels, while avoiding museum security, and even the local police! This game was released in Spring 2014.
Rampage Rex is another 2D Flash platformer I made, and if you still have Flash enabled you can play it here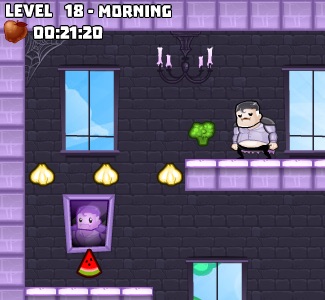 You're a vampire with a conscience. Tired of feasting on innocent victims, you've gone vegan! Help this Vegan Vampire get home from a late night dinner party before the sun comes up, while feasting on delicious, and nutritious snacks in each level.
Vegan Vampire brought back the same team from Rampage Rex, and is the last 2D platformer I've released.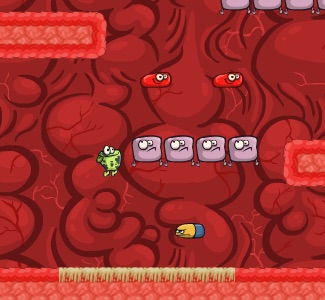 Your name's Herm, and you're a germ! Jump, hop, and replicate your way to this poor human's brain! Once there, the human realizes you're no ordinary germ! Herm is packed with 30 levels of fast-paced fun.
Herm the Germ is one of my earlier Flash games, released in 2012. It received multiple sponsorships, including one from Nickelodeon's own, Addicting Games.